Get better GPS performance with these suggestions
There are two basic types of in-car GPS navigation systems: in-dash and portable. This article will give you some tips on installation considerations for both systems, but focuses on the in-dash systems, since they are more involved. After reading this article, see our
Navigation Installation Guide
for detailed installation instructions.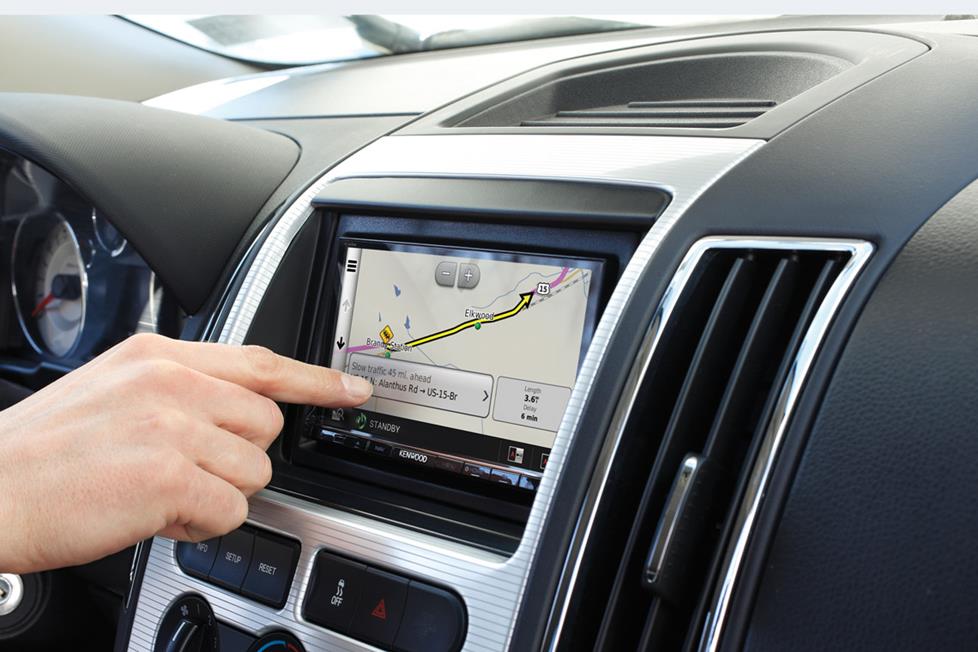 In-dash Navigation Systems
In-dash navigation systems consist of 2 or 3 parts: a car stereo with a built-in screen, an external GPS antenna, and occasionally, a hideaway connection box that contains audio/video inputs and outputs. These navigation systems require some extra wiring connections versus regular in-dash stereos.
Parking brake
For safety reasons, any video screen in the front of the car must be attached to the parking brake wire. This applies to GPS systems too. Some of the more advanced navigation functions are disabled while the vehicle is in motion. If you want to look up a phone number or change the default settings of the unit, you'll need to pull over first. In rare cases, a connection to the foot brake may be required also.
Vehicle Speed Sensor (VSS)
In addition to the standard power and ground leads, some navigation systems also connect to a vehicle's Vehicle Speed Sensor (VSS) wire. Your vehicle's cruise control uses the VSS wire to determine the vehicle's speed — it serves the same function for the navigation system. (Don't substitute the tachometer signal wire for the VSS wire — the tach signal wire sends pulses as long as the engine is running, even when the car is sitting still.) The VSS wire sends a series of pulses (from 800 to just over 1,000 per mile) only when the vehicle is in motion. If the VSS wire is not hooked up, the navigation system may not realize that the car is moving at all, and might be unable to track position as accurately.
Reverse signal
Many systems also connect to the vehicle's reverse (or back-up light) signal wire — this connection tells the navigation system when the vehicle is traveling in reverse. If this wire is not hooked up, then the vehicle direction will not track properly, and the navigation system won't be able to do its job.
We can help
Our highly trained Technical Support staff can provide parking brake, VSS, and reverse wire information for most vehicles. They're available seven days a week (have your invoice handy when you contact us). Even if the information is not available for your vehicle, they can still help you figure out which wires are the ones you need.
GPS Antenna
The navigation computer determines its position by communicating with the Global Positioning System satellites through its GPS antenna. The waterproof antenna may be mounted inside or outside of the vehicle, but best results are usually obtained by mounting it outside on the roof.
If you opt for interior mounting, keep in mind that the GPS antenna cannot "see" through metal. Reception is also prone to electromagnetic interference when mounted in the interior of the vehicle. Do not place the antenna on the dashboard or rear deck if:
you have a wired rear defroster
you have metallic window tint
you have a solar reflective window
you have a windshield mounted radio antenna
The GPS antenna should be placed at least 5 inches from any physical obstruction like the "A" pillar or a 2-way communication antenna. The antenna attaches to sheet metal using a magnet or adhesive, and the cable is routed to the interior through a rear window (or door) seal.
Calibration
Once installed, your navigation system must be calibrated according to the manufacturer's instructions. Some systems will also require recalibration after a tire change.
Installing a navigation unit is like putting in an in-dash receiver or an amplifier — with a few added twists. You should have no problem setting up a navigation system if you've installed this type of equipment before.
Remote-mount navigation systems
A remote-mount system consists of a separate navigation computer (with an external antenna) that must be connected to a compatible car stereo. Drivers interface with them the same way they would an in-dash system. These are not as common today, but they're just as effective as most in-dash systems, provided their mapping data is up to date and they're properly connected.
In-dash navigation systems, like the Apine INEW-960, provide you with large displays and easy touchscreen controls.
Portable GPS navigators
Part of the appeal of portable GPS navigators is their ease of installation. Most portables use a suction-cup mount to attach directly to the windshield or your dash (make sure that windshield-mounted electronic devices are not prohibited or regulated in your state or locality). Power for the GPS unit is provided by a 12-volt power adapter.
Simply clean a small area of the windshield (not in your direct view of the road) with glass cleaner or rubbing alcohol, and attach the suction cup to clamp it securely to the glass. Your portable GPS unit may also come with another type of installation apparatus, such as a bean bag mount that uses a weighted non-skid rubberized pad to stay put on an uneven surface, or adhesive brackets to mount the unit directly to the dash. The same precautions for the GPS antenna listed above apply for portable units with built-in antennas — you want to make sure the unit's built-in antenna's reception remains unimpeded.
The windshield mount should securely hold your portable GPS navigator in place.
If you liked this post, Dont forget to BOOKMARK it for others as well. Please CLICK your favorite SOCIAL BOOKMARKING ELEMENT

:


Tweet